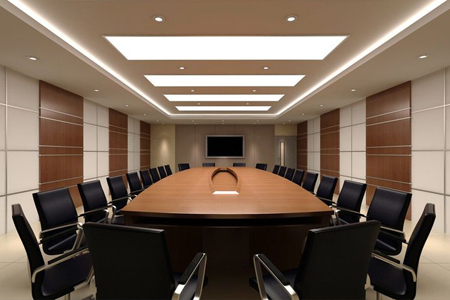 Conference room consultant, design and installation service in Los Angeles, CA
Looking for conference room consultant, installation and design services in Los Angeles? We have  installed videoconferencing systems for companies of all sizes. From multi-billion dollar boardrooms that require large and sophisticated multi-media conferencing spaces, to medium and smaller size companies and offices. Your meeting room or huddle space should be outfitted with modern collaboration tools such as 4K cameras and beamforming mics. This will make you feel like the participants are in the same room.
Our video conferencing systems are custom fit to your needs and budget, easy to operate. Together with highly sensitive cameras and microphones to deliver crystal clear audio and video signals for a true to life quality presentation. In addition, we design our systems to be compatible with Macs, PCs and all personal mobile devices. Did we mention we have a brilliant team of engineers and interior designers? They work together to blend functionality with style. We are highly confident that you will enjoy your new conference room.
A point often overlooked by AV companies is the conference room accoustics. You cannot use a room that has state of the art AV conferencing gear but has bad accoustics. It is much harder to compensate for bad accoustics with hardware and software. For this reason it is best to contact your AV consultant as early as possible to be sure the design blends with good accoustics.
Book a video conference room installation today and eliminate the need to travel to colaborate with teams all over the world. We cover all aspects of the design and installation of a conference room: sound, video, sharing and scheduling. Not to mention we also provide and install furniture  for your conference room.
Typical Video conference room components:
During the design phase of your meeting room, board room or auditorium, we decide which components fit your needs best:
Microphones(table, ceiling, omnidirectional, cardioid, ceiling mic array)
Speakers(in ceiling, surface mounted, sound bars, hanging)
Display solutions(TV's, projectors)
Content sharing
Conferencing platform(see list below)
Room accoustics
Furniture(table, chairs, credenza, podium)
Whiteboards
Top video conferencing services for business as of April 2022:
Cisco Webex
Zoom videoconferencing
Lifesize
Microsoft Teams
Google Hangouts
GoToMeeting
Skype
The best video conferencing hardware for your business in 2022:
Crestron
Logitech
Nureva
AMX
Clearone
Atlona
Nureva
Polycom
Bose
Cisco
Microsoft
The post-pandemic hybrid workspace has brought new players to the list. Helping you decide which one is best for you, is our job. We are a video conferencing consultant, experienced in analyzing your conferencing space and creating the perfect custom video and audio conference solution. With your new conferencing system, you'll be able to close more deals. Your clients will appreciate the quality of every call.
Contact us for a free consultation.
Design and planning
Understanding your meeting and collaboration needs are mandatory and ensures a successfull project.
All use case scenarios and all possible inputs, outputs and needs for expansion are taken into consideration.
Fast Installation
Clean and fast installation of all conference room systems, performed by factory certified technicians.
1 year warranty on all installations
Maintenance
Nobody wants to loose sound or picture during a board meeting or executive meeting.
We offer you proactive maintenance to ensure zero downtime.